While severe asthma only accounts for around 5% of the approximate 334 million cases of asthma globally, it is responsible for over half of the resource expenses.1,2 This unequal impact means there is a big need to:
a) understand how health systems manage severe asthma and
b) identify best practices to improve control and prevent disease progression.
In response, the Severe Asthma Index was developed as a first-of-its-kind tool to assess global approaches to severe asthma care. The Severe Asthma Index illuminates national-level best practices and opportunities for improvement in severe asthma care across 29 Organization for Economic Co-Operation and Development (OECD) countries to support stakeholders in driving informed discussions to improve the standard of severe asthma care and advocate for national action plans to advance the health and wellbeing of patients.
While each country receives its own score and insights from the report, the Severe Asthma Index also points to broader, cross-country trends and considerations which are important to understand in order to implement the best standard of care for everyone living with severe asthma.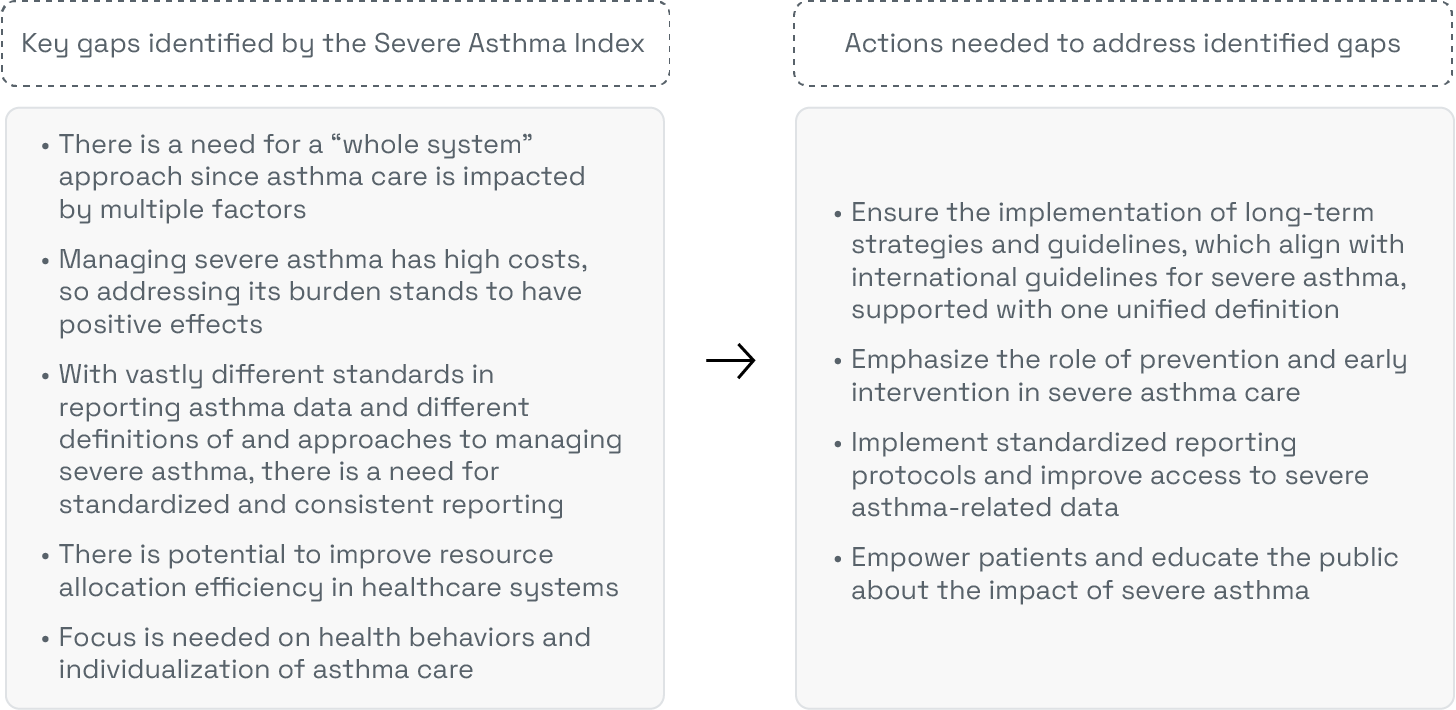 The Severe Asthma Index aims to empower and support the community's work to ensure that everyone, everywhere receives the best standard of severe asthma care. In the meantime, it also helps to inspire people to advocate for themselves by recognizing the true impact that asthma has on their lives and to work hand-in-hand with their healthcare teams to ensure that they are receiving the best possible care.
Find out more about the Severe Asthma Index by visiting SevereAsthmaIndex.org.
The Severe Asthma Index was independently developed by the Copenhagen Institute for Futures Studies and validated by a six-member independent Steering Committee of globally recognized experts in the respiratory and health policy arenas, with financial support provided by Sanofi and Regeneron.
References:
O. Enilari, and S. Sinha, "The Global Impact of Asthma in Adult Populations", Ann Glob Health, vol 85(1), no. 2, 2019.
Al Efraij, K. and J.M. FitzGerald, Current and emerging treatments for severe asthma. J Thorac Dis, 2015. 7(11): p. E522-5.
MAT-GLB-2301605 v2.0 | June 2023