Chronic rhinosinusitis with nasal polyps (CRSwNP) is a chronic disease of the upper airway1 characterized by polyps in the nasal cavities and largely driven by type 2 inflammation.2 One of the most common and debilitating symptoms of CRSwNP is anosmia (loss of smell).3 This can have detrimental effects on a person's quality of life, productivity, psychological health, and may increase the risk of experiencing a hazardous event, such as a fire or smoke.3
CRSwNP is a common chronic condition affecting up to 1-4% of people in the world,4 however it is not prioritized by policy makers as a public health issue.4 The European Forum for Research and Education in Allergy and Airways diseases (EUFOREA) recently worked with its Patient Advisory Board, which has been active since 2017, to gain perspectives from people living with CRSwNP on the disease and available care. This has culminated in a new report, which provides unique insights on CRSwNP and ways in which countries can improve CRSwNP care and management. Below is a brief summary of the three findings from the report. 5
1. Increased education on the burden of CRSwNP is needed
Common CRSwNP symptoms, such as anosmia, loss of taste, blocked and runny nose, and facial pressure, can take a physical and psychological toll on a person.1 In fact, one in five patients on the advisory board were diagnosed with depression at some point in their lives.5 Despite this, some reported difficulties in being taken seriously by their healthcare professional as they underestimated the social and psychological aspects of CRSwNP.5
"I think there still is not enough knowledge in primary care. CRSwNP is still too often compared to a common cold or a small headache." – CRSwNP patient
Many people with nasal polyps live with coexisting diseases, most notably asthma, but there remains limited awareness and understanding of this disease. This leaves people living with CRSwNP feeling frustrated and often misunderstood by their friends, family and healthcare providers.
"Imagine having a cold for 20 years, this breaks you down slowly. […] You never get a break, it never goes away." – CRSwNP patient
2. Personalized multi-disciplinary care and access to innovative treatment options are a must for people with CRSwNP
The Patient Advisory Board also identified the significant shortcomings in CRSwNP care.5 For example, many patients emphasized the need for a stronger multi-disciplinary approach with greater communication between healthcare professionals and different specialists (e.g., pulmonary and ENT specialists). Several patients also called for more personalized care and suggested that more attention should be paid to the diverse needs of people with nasal polyps, such as identifying specific environmental factors that may trigger symptoms on an individual basis.5
Additionally, the report highlighted that greater shared decision-making between people living with CRSwNP and their providers would increase patient satisfaction, therapy compliance, and control of the disease.5
Another major concern raised was the lack of effective treatment options, noting concerns with both oral corticosteroids and endoscopic sinus surgery. In response, the patients emphasized a need for treatment options that target the cause of their disease rather than just the symptoms.5
"I haven't discovered anything that works yet, nothing helps." – CRSwNP patient
3. Drive the implementation of CRSwNP guidelines
Despite the existence of international evidence-based guidelines for the treatment of CRSwNP,1 many people living with nasal polyps have uncontrolled CRSwNP with recurrent needs for corticosteroids or endoscopic sinus surgery, highlighting the need to improve the implementation of CRSwNP guidelines. Moreover, the Patient Advisory Board recommended including CRSwNP in asthma and pulmonology guidelines.5 This would help ensure doctors have a holistic understanding of CRSwNP as a common coexisting disease for those with asthma.
"They need to organize extra courses for specialists and GPs to inform them about the latest treatment options." – CRSwNP patient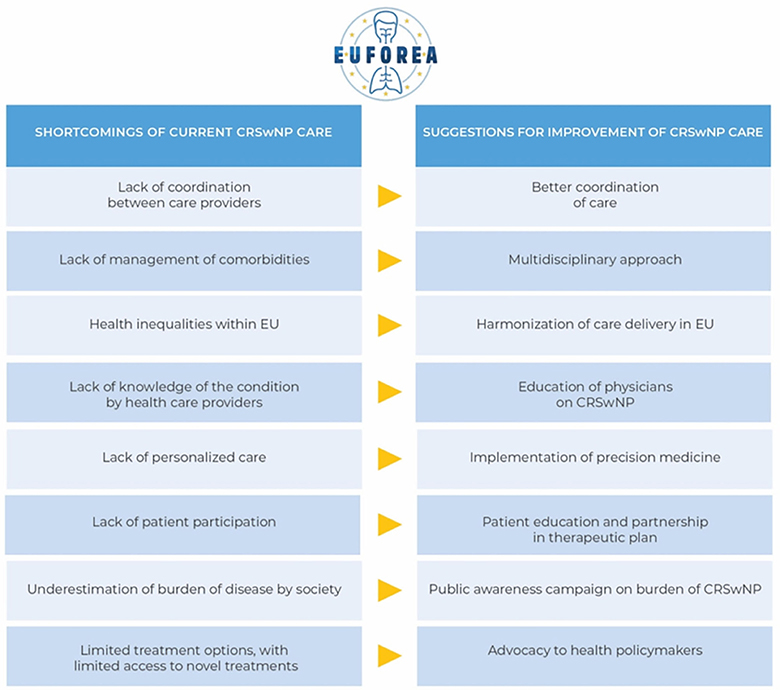 Shortcoming and suggestions for improvement of current care pathways for people with CRSwNP
National policies must do more to serve people living with CRSwNP and health systems. This includes increasing education about CRSwNP; strengthening personalized multi-disciplinary care and expanding access to innovative treatments; and driving implementation of CRSwNP guidelines.
Read the full EUFOREA report here and share this article as a first step to demand better care for people with CRSwNP.
MAT-GLB-2105569 V5.0 | January 2022
1 – Fokkens WJ, Lund VJ, Hopkins C, Hellings PW, Kern R, Reitsma S, et al. European position paper on rhinosinusitis and nasal polyps. Rhinology. (2020) 58:1–464. doi: 10.4193/Rhin20.601
2 – Kato A. Immunopathology of chronic rhinosinusitis. Allergol Int. 2015; Apr;64(2):121-30
3 – Nordin S et al. Effects of smell loss on daily life and adopted coping strategies in patients with nasal polyposis with asthma. Acta Otolaryngol. 2011 Aug;131(8):826-32
4 – Chen S, Zhou A, Emmanuel B, Thomas K, Guiang H. Systematic literature review of the epidemiology and clinical burden of chronic rhinosinusitis with nasal polyposis. Curr Med Res Opin. (2020) 36:1897–911. doi: 10.1080/03007995.2020.1815682
5 – Claeys N, Teeling M, Legrand P, Poppe M, Verschueren P, De Prins L, et al. Patients unmet needs in chronic rhinosinusitis with nasal polyps care: A patient advisory board statement of EUFOREA. Frontiers in Allergy. (2021) 2. doi: 10.3389/falgy.2021.761388